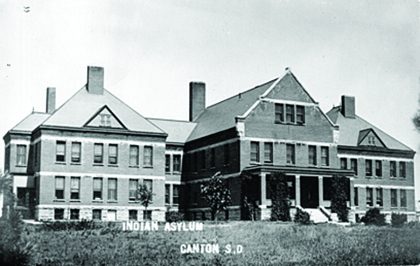 Two events during June focus on the Hiawatha Indian Insane Asylum. One event explores the history of the institution; a second event honors those who are buried in the asylum cemetery. Both events honor and remember the suffering of 400 native inmates, of which 120 died while in the asylum between 1902-1933.
Healing Our Shared Past, Present, and Future: The Hiawatha Indian Insane Asylum, Canton SD
June 6, 2018, 7:00 pm to 9:00 pm
First United Methodist Church, Sioux Falls, SD
South Dakota Humanities Council Scholars Jerry Fogg and Anne Dilenschneider will present the history of the Hiawatha Indian Insane Asylum in Canton SD. Jerry and Anne are also Keepers of the Canton Native Asylum Story.
From 1902-1933, The Hiawatha Indian Insane Asylum was the linchpin of federal Indian policy. Native Americans who misbehaved in boarding schools, alienated reservation agents, or suffered from combat-related "shell shock" were sent there. The asylum housed nearly 400 Native inmates from all parts of the United States during the three decades of its existence; more than half died of curable diseases. Although the place was advertised throughout the Midwest as a tourist attraction, the actual conditions described in more than 15 federal investigative reports were: "like a leper colony" and "inhumane." While politicians wanted to keep this profitable place open, it was the people who worked there, and the inmates, who advocated for its closure. Currently, 127+ Native Americans from 53 tribes are still buried in unmarked graves on the golf course that occupies the asylum site.
The Dakotas Annual Conference of the United Methodist Church is hosting and sponsoring this event.
AND
Annual Honoring at the Hiawatha Indian Insane Asylum site
June 9, 2018, 2:00 pm to 5:00 pm, Canton, SD
All are invited to join in honoring the 127 Native Americans from 53 tribal nations who are buried at the asylum cemetery (currently the Hiawatha Golf Course in Canton, SD).
2:00 pm Dakota 38 Riders lead the way through Canton, SD to the asylum site east of town
3:00 pm Honoring at the asylum cemetery site
4:00 pm Potluck meal at the adjacent 4-H grounds
Children are welcome.
Hosted by the Keepers of the Canton Native Asylum Story
The Keepers are focused on education, reconciliation, & restoration related to the Hiawatha Indian Insane Asylum in Canton, South Dakota (1902-1933).