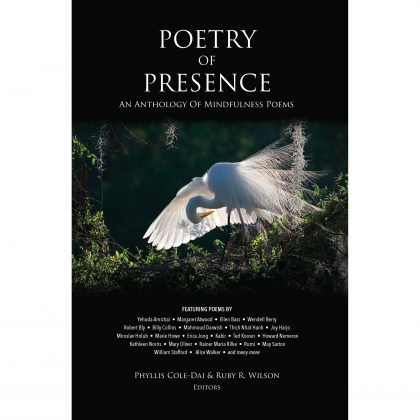 Mindfulness poems invite us to bring our full self to whatever moment we're in and truly live it. They encourage us to be more present, more attentive and compassionate, in the living of our days. They grant us a taste of being good enough, just as we are, in this world, just as it is—even as they inspire us to be more, to do more. They provide a refuge, where we can just be when we're worn down. Join Phyllis Cole-Dai and Ruby Wilson, editors of Poetry of Presence: An Anthology of Mindfulness Poems, as together we explore how mindfulness poetry can sustain us on our journeys. No love of poetry required. No experience with mindfulness necessary. Just come and stay awhile, as the poet Mary Oliver would say, that you may go out easy into the world, filled with light, to shine.
WSC: Mark Sanderson    Speaker: Phylis Cole Dai and Ruby R. Wilson Musician:  Debbie Reid
BIO: Phyllis Cole-Dai
Originally from Ohio, Phyllis Cole-Dai is a graduate of Goshen College and holds advanced degrees from the Methodist Theological School and The Ohio State University. She now resides with her husband, teenage son and two cats in a cozy 120-year-old house in Brookings. Poetry of Presence is her eighth book. Her debut novel will be published later this year. A practicing Buddhist, she dedicates her work to the building of a more peaceful and equitable world. Learn more at www.phylliscoledai.com.
BIO: Ruby R. Wilson
Ruby R. Wilson is a graduate of South Dakota State University, where she is now an archivist. She is also a freelance writer and photographer. Besides Poetry of Presence she has published three chapbooks of her own poetry. With her husband Jim she lives on a small acreage in rural Brookings County. She can sometimes be seen gathering seeds from big bluestem and other native plants, or gazing at stars that aren't crowded out by city lights. Learn more at www.rubyrwilson.wordpress.com.