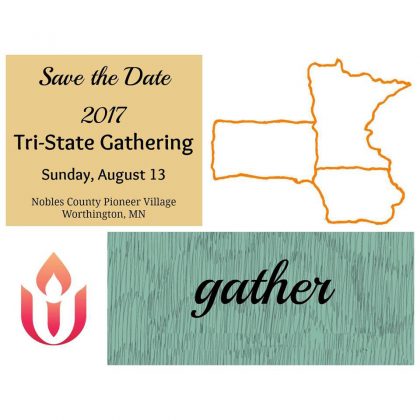 Make plans to attend the 2017 Tri-State Gathering at 10:30 a.m. on Sunday, August 13, at Nobles County Pioneer
Village, 1600 Stower Drive, Worthington, MN. Broaden the circle of our UU family. Join UUs from Southern Minnesota, Eastern South Dakota and Northwestern Iowa. Gather for a service and potluck.
Schedule: 10:30 Gather, 11:00 Service, 12:00 Potluck
Service: "Neighbors on the Prairie; Neighbors on the Earth" with the Reverend Lisa Doege, speaker.
Harper Lee defined neighborliness in Scout's words near the end of 'To Kill a Mockingbird', "Neighbors bring food with death and flowers with sickness and little things in between." What does it mean to be neighborly when miles of geography or miles of cyberspace exist between neighbors?
Potluck: Please bring a dish to share and your own place settings.
Organized with assistance from Rev. Lisa Doege, Nora UU Church (Hanska, MN) and David and Sally Anne Benson.
For more information: norachurch@sleepyeyetel.net
Nobles County Pioneer Village: http://www.noblespioneervillage.com/